Meridian's 210 Streamer
Meridian's new 210 Streamer is a handy audio 'endpoint' that is designed to be used to stream music to predominantly Meridian systems but can be connected to any hifi via the digital output.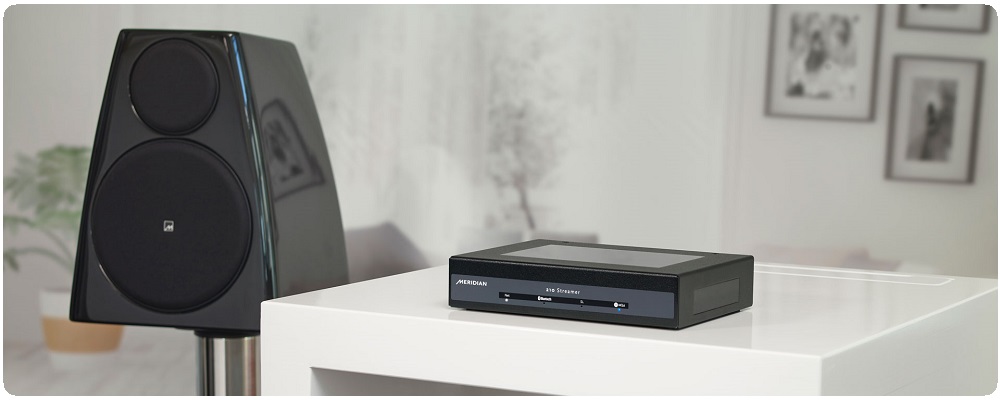 The 210 usefully allows the connection of streaming services as typically used on smartphones, tablets and other devices to be played through a digital based system: services supported include Bluetooth and Spotify Connect. In addition, the 210 is also a Roon-ready device and can decode MQA files. It can be used on its own with Meridian's DSP loudspeakers to create a very simple system, or as part of a complete Meridian set-up.
At a glance

With aptX HD Bluetooth, the Meridian 210 supports highest quality streaming.
Synchronises the volume controls of Bluetooth devices, playback apps, the Meridian system and third-party control across the system.
Effortless set up and control with the Meridian Control app for IOS and Android.
Digital Aux output makes the Meridian 210 compatible with third party DACs.
User Features
Usable without the need for any additional "core" device.
Spotify Connect integrated into the set-up app provided with the product.
Bidirectional integration between streaming apps and Meridian products
Front panel indicators for Bluetooth, Network, Standby, SpeakerLink In and MQA status.
Pairing push-button on rear-panel for simple Bluetooth connection.
Supports pairing of multiple Bluetooth devices.
Sample rate and bit-depth up to 96kHz at 24bit.
Audio decoding: AAC, AIFF, MP3, FLAC, WAV, WMA, Apple Lossless, OGG, Monkey's, MQA Decoded and unfolded 24bit/96Khz audio out via I2S.

Specifications

Connections

Power input (IEC "cloverleaf" connector)
USB input (USB-A connector)
1 x SpeakerLink input (RJ45)
2 x SpeakerLink output (RJ45)
1 x co-ax digital aux output (RCA phono)
Network socket for Ethernet connection (RJ45)
Maintenance socket (mini-USB connector)DISPLAY/COntrol
Front-panel indicator LEDs for Bluetooth, Network, SpeakerLink and MQA
Rear-panel indicator for power
Rear-panel pairing buttonDIMENSIONS/WEIGHT
HEIGHT: 42mm [1.65in]
WIDTH: 204mm [8.0in]
DEPTH: 150mm [5.9in] plus connectors
WEIGHT: 0.66kg (1.46lb) Power
High performance power supply: 100V ac 50/60 Hz 220-240V ac 50/60Hz
Maximum power consumption: 12W