While the Motion® F10 is the smallest floorstanding model in our assortment, it offers impressive levels of detail, clarity, and dynamics that defy the expectations of its compact design. With a height of under 39″, the Motion® F10 can fit into almost any decor without being overbearing. With the combination of our Gen2 FMT, Woven Fiberglass midrange, and dual 5.5″ aluminum bass drivers, Motion® F10 provides an engaging listening experience for all of your favourite content.
Motion®: Reimagined
Our most ambitious acoustic and aesthetic development in MartinLogan's 40-year history. Motion® Series defines elegance and performance by leveraging exclusive technologies and decades of experience. The result is a loudspeaker collection that is not just an upgrade of its predecessor, but a whole new level of quality and excellence.
Legendary MartinLogan Sound
MartinLogan speakers are known for their exceptional articulation, detail and realism, regardless of the listening environment. By using advanced thin-film technologies and Controlled Dispersion, MartinLogan delivers a unique and unparalleled listening experience that is not commonly found in other speakers.
Gen2 Obsidian Folded Motion® Tweeter
Our signature thin-film tweeter technology just got better. With an upgraded motor structure, the latest Gen2 FMT provides higher output and lower distortion than ever before.
Folded Motion® Waveguide
After an extensive evaluation of nearly 50 design options, the Folded Motion® Waveguide profile was meticulously chosen to harmoniously align with the dispersion of the midrange drivers, resulting in enhanced output. The waveguide guarantees consistent sound quality regardless of the listener's position and minimizes unwanted room reflections. Proper waveguide design is crucial as it helps control the sound's dispersion pattern, ensuring that the sound is evenly distributed across the listening area and resulting in optimal sound quality.
F.A.S.T. Outrigger Feet
The tower models in the Motion® range are designed with tool-less height adjustability in mind, using the included rubber feet or spikes, which enables the user to effortlessly level the speaker for optimal stability on any floor. Additionally, the built-in anti-vibration properties reduce the transfer of energy from the speaker to the floor, resulting in lower distortion and coloration, providing a more accurate and detailed sound.
Woven-Fiberglass Midrange
The lightweight and strong Woven Fiberglass midrange in the Motion® series is perfectly suited for keeping pace with Motion's Gen2 FMT, providing crystal clear dialogue and vocals, as well as lifelike instrumentals.
Aluminum Bass Drivers
The exceptional characteristics of aluminum make it an ideal choice for bass drivers. When paired with oversized motor structures and a downward-firing port, the new Motion® speakers are extremely easy to place in any room while providing outstanding bass performance at any volume.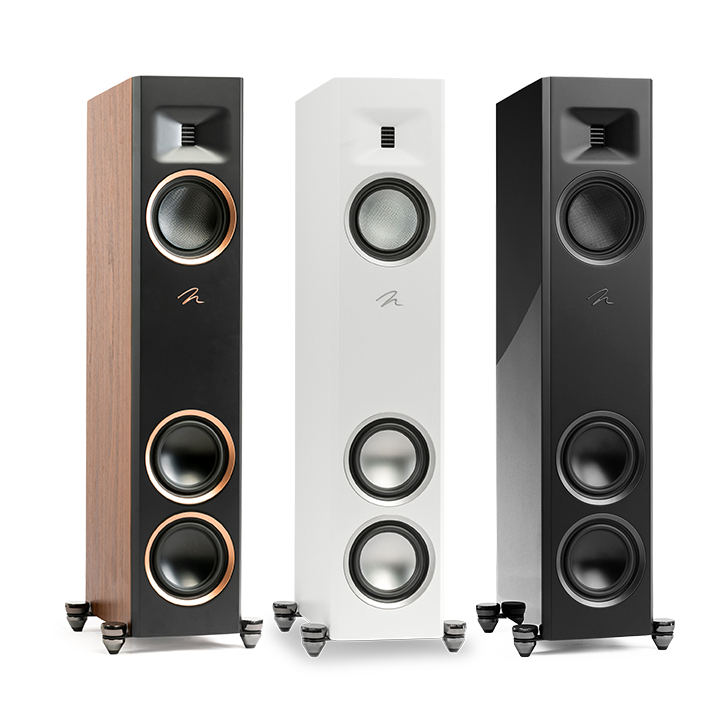 Specifications
Specifications are subject to change without notice
Dimensions (H x W x D, with feet)
38-1/4" x 11-1/4" x 13-1/4"
97.1cm x 28.6cm x 7.6cm
Frequency Response
38 Hz – 25 kHz
± 3 dB
Tweeter Dispersion (horizontal x vertical)
90° x 90°
Recommended Amplifier Power
20 – 250 watts
Sensitivity
92 dB
Impedance
4 ohms
High Frequency Driver
1" x 1.4" (2.6 x 3.6cm) Gen2 Obsidian Folded Motion Tweeter with 9.2 in2 (59.4 cm2) diaphragm
Crossover Frequency
280 Hz, 3,000 Hz (3-way)
Mid-Frequency Drivers
5.5" (14cm) Woven Fiberglass cone with cast polymer basket. Non- resonant sealed chamber format. Unibody cone construction.
Low Frequency Driver
2x 5.5" (14cm) aluminum cones with cast polymer baskets. Non-resonant asymmetrical chamber format. Unibody cone construction.
Cabinet
Bottom Ported
Binding Post Inputs
Custom bi-amp/bi-wire capable 5-way binding posts
Weight
50.5lbs / 22.9kg
Finish
Gloss Black, Walnut, and Satin White
Special order item.