Inspired by MartinLogan's ultra-high-end electrostatic loudspeakers, the Motion® Series was created to provide stunning sound for your ultimate-performance home theater or stereo. MartinLogan's dedicated in-house engineers carefully crafted the Motion Series to create an extremely affordable and compact product line that seamlessly blends our exquisite Folded Motion® transducers with powerful, compact bass technology. The result is a smooth, refined sound with stunning dynamic range and jaw-dropping clarity.
Motion 6i Compact Speaker
Audiophile performance without an audiophile price. Inspired by the clarity and detail of MartinLogan's ultra-high-end electrostatic loudspeakers, Motion 6i features a Folded Motion tweeter, dual 3.5-inch poly cone woofers, and a proprietary Vojtko crossover network in a compact and affordable package. Flexible installation options allow table top or on-wall installation. Motion 6i mounts horizontally or vertically, ideal for placement around a wall-mounted flat screen television. Available in gloss black.
Engineering, Without Compromises
What makes the Motion Series sound so amazing? MartinLogan's dedicated in-house engineering and design team started by utilizing and refining the most advanced, compact technologies and combining them with innovative engineering and time-honored cabinet construction techniques. The result is an emotionally engaging sound that rivals (and most times trounces) traditional loudspeakers of similar size and price. Our 'no compromise' philosophy gives Motion Series a unique sound you won't find anywhere else.

Sound Inspired by Electrostatic Speakers
The success of the Motion Series is directly attributed to its close relation to MartinLogan's legendary ultra-high-end electrostatic loudspeakers. The desire to transmute that level of performance into a more traditional loudspeaker at a more affordable price drove the initial design imperatives that created the Motion Series.
Folded Motion® Tweeters
MartinLogan's signature Folded Motion tweeter utilizes an extremely low mass diaphragm that "squeezes" air, thus demanding significantly less excursion than the typical 1-inch dome tweeter. Its folded design allows for a much larger surface area (compared to that of a regular 1-inch dome tweeter), controlled dispersion characteristics, and vanishingly low distortion. It's a miracle of audio engineering that's able to deliver much of the high-frequency detail and speed of a large, dynamic electrostatic panel in a small space.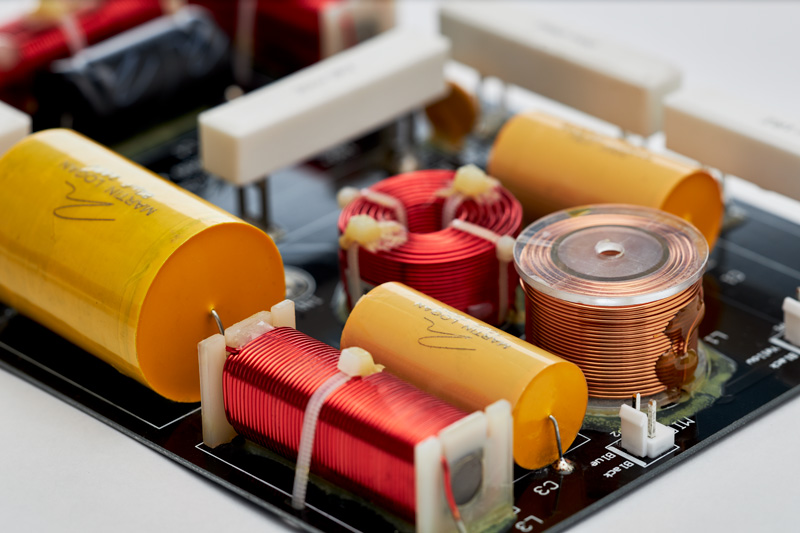 Proprietary Vojtko ™ Crossover Networks
Compact Motion Series speakers feature proprietary Vojtko crossover networks using custom air core coil inductors, low DCR steel laminate inductors, and polyester film and low-DF electrolytic capacitors for a seamless sonic presentation.
Vojtko crossovers are named after MartinLogan's chief audio technologist, Joe Vojtko. His unique approach to crossover design is as big of a part of the "MartinLogan Sound" as are electrostatic and Folded Motion thin-film driver technologies. A Vojtko crossover isn't so much a set of design requirements as it is a philosophy. Vojtko crossovers are designed in such a way that all drivers are kept within their optimal frequency range and balanced with one another. The drivers themselves are as much a part of a Vojtko crossover as are capacitors and resistors. Before the design of any crossover begins, drivers are carefully selected or designed to operate within a very intentional frequency range and with precise and predictable performance parameters. Vojtko crossovers are always built from high-quality parts, and care is taken to avoid overly complex topologies—a straightforward objective due to the careful selection of woofers and tweeters. The final (and most critical) aspect of a Vojtko Crossover is that final voicing is conducted in a space that is indicative of a real-world environment. This pragmatic approach allows MartinLogan speakers to sound their best in real-world rooms.

Modern Curves and Luxurious Finish
After refining the perfecting the acoustic details, MartinLogan designers focused on elegant yet understated styling that complements flat-panel televisions and other high-end components. To achieve this, we gave compact Motion bookshelf and center channel speakers a flawless gloss black finish and compact, slender enclosures. Subtle curves, along with MartinLogan's signature perforated grille, add to the elegant and timeless look.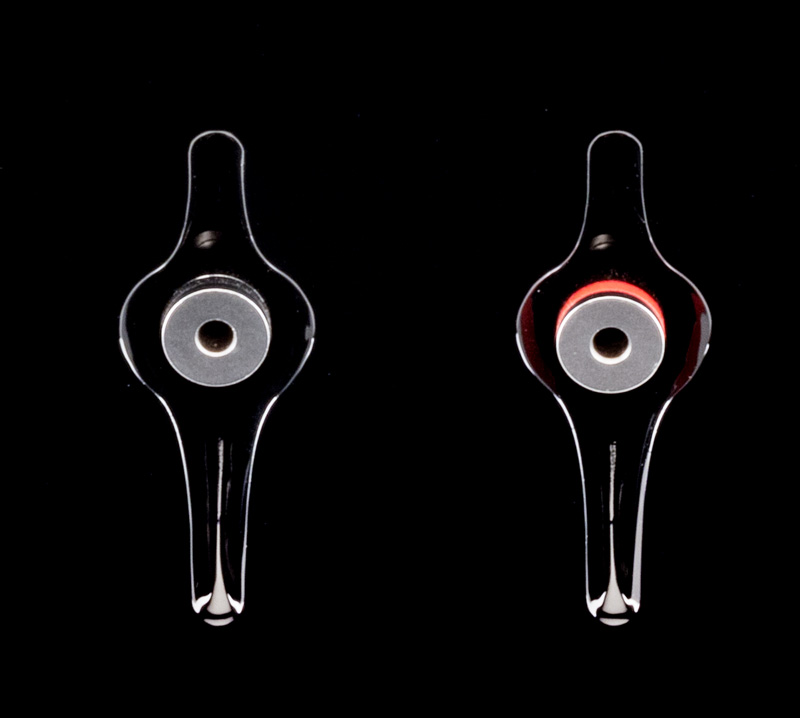 Easy Hookup
Convenient, high-quality, push-style binding posts are recessed into the speaker's cabinet along with curved guides that allow wires to slide into place effortlessly. These binding posts are also designed to facilitate the use of banana plug connectors.
Specifications
Specifications are subject to change without notice
Frequency Response
120–23,000 Hz ±3dB
Recommended Amplifier Power
20—130 watts per channel
Horizontal Dispersion
80°
Vertical Dispersion
80°
Sensitivity
89 dB/2.83 volts/meter
Impedance
6 Ohms Compatible with 4, 6, or 8 Ohm rated amplifiers.
Crossover Frequency
4,000 Hz
High Frequency Transducer
0.94″ × 1″ (2.4cm × 2.5cm) Folded Motion Transducer with 2.8″ × 1.25″ (13.3cm × 4.4cm) diaphragm
Low Frequency Transducer
Two 3.5″ (8.9cm) poly cone with stamped steel basket. Non-resonant asymmetrical chamber format. Rigid structured dust cap to reduce cone break-up modes. Sealed.
Components
Custom air core coil and low DCR steel laminate inductors. Polyester film capacitors in series and low DF electrolytic capacitors in parallel. Overall system thermal/current protection.
Inputs
Push style with banana jacks
Weight
5.7 lbs. (2.58 kg)
Dimensions
5.2″ x 17.5″ x 4 "
(13.2cm x 44.4cm x 10.1cm)
Please note price is for a single speaker & these are special order items that need to be purchaed in the showroom.