HALO – EVOLUTION OF THE EVERYDAY REMOTE
Full color 2.8″ non-touch LCD screen provides a graphical display of devices, media, favorites, automations and menu options that are selected from, and controlled by the complete set of hard, backlit buttons below
Three hard custom buttons with digital labels for easy identification and execution
Innovative new Color Shortcut button to access red, green, blue, and yellow functionality on the 2, 4, 6, and 8 buttons
The Halo, the Halo Touch, and the Control4 SR-260 remotes are the perfect hand-held interfaces to the whole home. Controls audio and video equipment, as well as lights and scenes, media browsing, voice control, and more. These beautiful remotes feel good in the hand, have an intuitive button layout perfect for one-handed operation, and are highly customizable.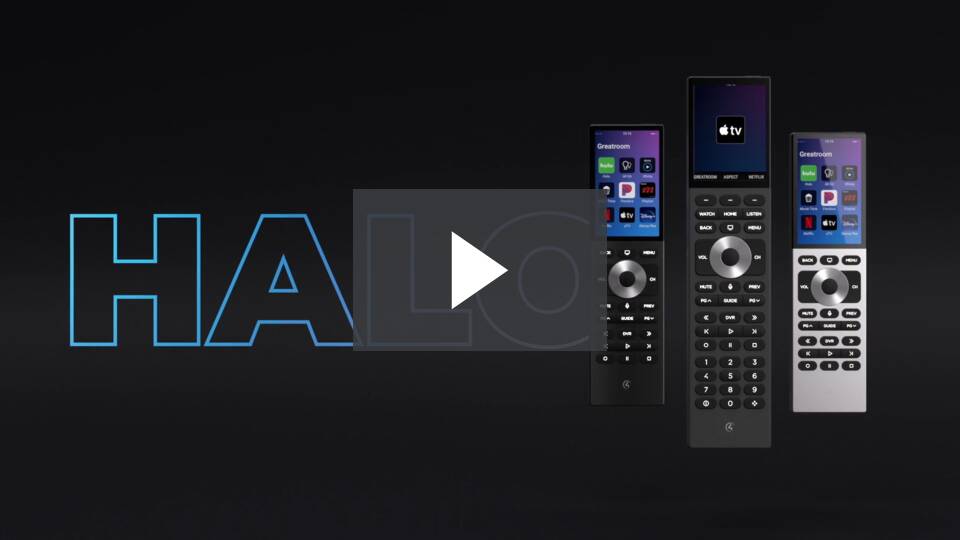 TRANSCEND SMART
TRANSCEND CONTROL
Halo technology improves the smart universal remote experience. Built off of the foundation laid by previous generations, the new Halo Family includes important feedback-driven features like: an innovative Voice button, a full suite of backlit buttons, and Wi-Fi 2.4 and 5GHz support with an advanced antenna array with up to 5 times stronger signal.
SAY HELLO TO HALO
The Halo Family of Remotes were engineered for next-gen interaction and functionality like dynamic access to dual voice assistants from a single button.
A beautiful, new user-interface was designed for intuitive use, with incomparable media browsing and control, and new customization options.
Halo and Halo Touch come packaged in an elegantly understated form that elevates any space, and is perfect for any customer, from tech-lovers to the novice.
Simply put, Halo is a generational leap to a user experience that transcends all others.
MEET THE NEW HALO REMOTES
Singular, intelligent remote capable of media browsing, device, and scene controls for AV, lighting, comfort, and security
Elegant and ergonomic design with a complete set of backlit buttons for easy and intuitive single-handed use in the dark
WiFi 802.11 a/b/g/n/ac support across the 2.4GHz and 5GHz bands
New Voice button dynamically functions as a Siri Remote for Apple TV or Xfinity Voice Remote for the Xfinity boxes
If asleep, a button press will wake Halo and execute the command
INNOVATIVE VOICE FUNCTIONALITY
A DYNAMIC DUO
Halo's Voice is unlike any other, offering dynamic access to either Siri or Xfinity, the two most requested voice assistants. Halo and Halo Touch finally allows you to put all of their other remotes away by offering total control over your smart home.
When using the Apple TV, push-to-talk for Siri Remote
When watching Xfinity, push-to-talk for Xfinity Voice Remote
REMOTE WITH A PERSONAL TOUCH
Halo takes the premium remote to the next level with thoughtful additions that provide a truly premium experience for you.
TAKE HALO & MAKE IT YOURS
Customization reaches a new level. Halo includes digital labels on custom buttons for immediate functionality recognition, and an innovative Color Shortcut Button for the standard red, green, blue, and yellow commands, or personalized options you want your Control4 Professional to program.
Please note control4 controller modules required*
Special order item. Please get in touch to discuss your options.